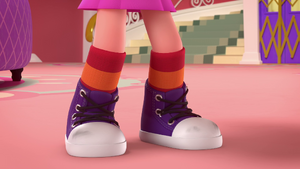 Abby's shoes worn by Abby have two functions:
Pogo
Pogo-Spring Shoes
The pogo-spring shoes are a function when the large springs concealed within them extend to propel her. She is able to use them to jump higher and longer than she normally would be able to. :)
Seasons
Used in
Sticky
The goo-gripper shoes, or super-sticky shoes are a second function where, much like the goo-gripper gloves, she is able to stick to surfaces.
Used in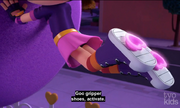 Trivia
The Pogo Spring Shoes are the most used gadget in the series.