Welcome to the Wiki
Welcome to the Abby Hatcher Wiki! Abby Hatcher is an American-Canadian Animated series which airs on Nick Jr.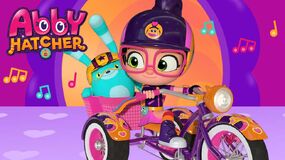 BASIC RULES
You must be at least 13 years old to edit this Wikia. This is one of the primary rules of Wikia's Terms of Use.
Due to vandalism and immaturity from anonymous IP users in the past, you must be logged in to an official Wikia account to edit, comment, or send messages on this wiki. Setting up an account is very easy and can be helpful with keeping track of your edits, and it is also more secure.
Please use the English language when speaking or making edits.
For your safety and privacy, we ask that you please don't upload a picture of yourself to the wiki. If you've already done this in the past and want it removed, please don't hesitate to ask one of our admins to delete it.
Topics of religion and politics are not allowed.
This wiki is only for legitimate information. Please don't post any fanon/made up material. Roleplaying also falls under this guideline. Messages, blog posts, or comments including such will be promptly removed.
When adding pages for episodes, a link providing a source for where the episode's title was found will be required. While sites such as IMDb aren't always reliable, it is still good to at least provide some proof of an upcoming episode's existence.
PUNISHMENTS IF RULES ARE BROKEN
1st offense: Warning: you get two warnings (unless if the case is severe).
2nd offense: Block: Blocks are usually temporary. But if you get 3 blocks, you're out.
3rd offense: Ban: You're out.
Photos and videos are a great way to add visuals to your wiki. Add one below!
Community content is available under
CC-BY-SA
unless otherwise noted.