Abby's Tricycle is very frequently wrongly called a bike (which is slang short for bicycle) which is inaccurate since that means two wheels. It is most definitely a tricycle, the short form of which would be 'trike', not 'bike'.
Merchandise error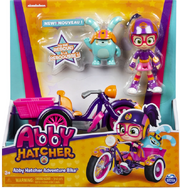 One playset which includes Abby's tricycle refers to it as an "adventure bike" even though it clearly has three wheels and not two.
News error
Even a reporter made the mistake of calling it a bike:
Spoken errors
SOG
Abby commits this error herself in the episode Shape of Grumbles, saying "bike" twice:
"WE HAVE TO FIND A WAY TO STOP HIS HICCUPS. TO THE BIKE!"
"COME ON, TO THE BIKE!"
OOTG
Terry then Abby then Bozzly all make the mistake in Otis on the Go as well:
"SO, WHAT DO YOU THINK OF YOUR NEW SOUPED-UP BIKE, ABBY?"
"I LOVE MY NEW BIKE."
"BOZZLY LOVE BIKE, TOO."
Transformed accuracy
When Abby's trike changes into the Fuzzly Flyer it is correct to call it a bike because the two rear wheels come together into a single wheel.
ABM
In Abby Babysits Melvin, Melvin calls it "Abby's flying bike".
Transcript errors and accuracy
The transcripts used on the TVOkids website also frequently wrongly refer to it as a bike. This is in two recycled (likely cut and pasted) descriptions of stock footage used in the show:
"They both jump on the bike and say YEAH!"
"They jump on the bike."
Despite this, another recycled description of the animation at the start DOES correctly identify the vehicle:
"Abby gets her helmet and gadgets on and rides a tricycle."
The Fuzzlies' Talent Show has a transcript here which also uses the phrase "Abby brings her bike near him".