His original name was Fuzzly (Fuzzlies were originally called Monsters in early production), and he was voiced by an unknown voice actor who gave him a squeaky toned voice.
When Bozzly first met Abby, he spoke very little, but after the first episode he began to talk more often.
He and Abby are the only characters to appear in all the episodes.
He and Kai are similar. They both wear helmets, they're both animals that walk on two legs, and they're both leaders of something. Hence, their helmets are both yellow.
Mushroom pizza is his favorite kind of pizza.
His symbol is a star.
Pill Bug is his favorite toy.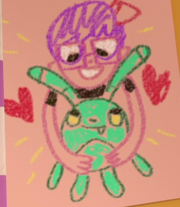 several episodes show that Abby has a drawing on her wall of herself hugging Bozzly from behind with two red hearts bordering it
several episodes where Abby is in her room, there is also a picture on Abby's wall of Bozzly wrapping his ears around Abby's head with five hearts around them
His tummy growled 5 times, first in Abby's Afraid, then in The Princess Flug Challenge, then in Dance Dance Grumbles, then in Fuzzly Beach Day, and recently Bozzly And The Baby(false news)
He is seen as secondary leader of the Fuzzlies, which means he is in charge when Abby isn't around.
His stomach growls more than any fuzzly.
Bozzly is the only fuzzly that wears his helmet most of the time than Abby, Mo, Bo, and Princess Flug.