Fuzzly Ball
Fuzzly Ball Episode
Fuzzly Ball
Season 1, Episode 18b
US Airdate
June 20, 2019
Production code
121b
Character focus
Abby
Fuzzly Spotter location
Otis in the dining room
Written by
Joe Purdy
Directed by
Kyran Kelly
Episode guide
Previous
Grumbles' First Haircut
Next
The Fuzzlies Camping Trip
Fuzzly Ball is the second half of the eighteenth episode in Season 1 of Abby Hatcher. (Redirected from Abby tries to throw the perfect ball for Princess Flug)
Summary
When Miranda and Lex cannot attend a ball they were invited to, Abby and the Fuzzlies work to host a ball of their own.
Synopsis
Transcript
For a full transcript of "Fuzzly Ball", click here.
Gallery

Click here to view the gallery If You wan't for Fuzzly Ball.
Quotes
Trivia
This is the first episode where the peep-a-phone is referred to by name.
This is the first time that the Squeaky Peepers have a Peeper Panic more than once an episode.
Song
Goofs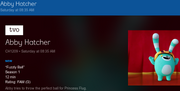 The TV guide description for this read "Abby tries to throw the perfect ball for Princess Flug." even though the ball was held for Lex and Miranda, not Flug.
When Abby and Bozzly are running after Abby leaves the peep-a-phone she has her shoes on, when she didn't wear them earlier. The next time she's seen, she doesn't have them.