General • Trivia • Appearing • Quotes
Hair Flair Everywhere
Season 1, Episode 1B
US Airdate
January 1, 2019
Production code
108b
Character focus
Harriet
Fuzzly Spotter location
Harriet in the lobby
Written by
Alex Mack
Directed by
Kyran Kelly
Episode guide
Previous
When Abby met Bozzly
Next
Mo and Bo in the Snow
Hair Flair Everywhere is the second half of the first episode in Season 1 of Abby Hatcher.
Summary
Mrs. Melvin closes the hotel's salon for the day, causing her hair-styling fuzzly assistant, Harriet, to feel bored and hire Abby and Bozzly to help her find something else to do.
Synopsis
Transcript
For a full transcript of "Hair Flair Everywhere", click here.
Gallery

Click here to view the gallery for Hair Flair Everywhere.
Song
Goofs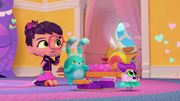 When the sick Squeaky Peepers start panicking, three errors are shown at the same time:

Abby's glasses become inverted and sink into her head.
Bozzly's helmet and hair tuft disappear.
Bozzly's visor is floating on his tummy.

The Peeper bed's location is inconsistent throughout the bedroom seen. When the Peepers come out, it is near the ladder, but after Harriet says "Help!" it has moved to near Abby's bag. After the fade-in, it's back to its original spot.
When Abby, Bozzly, Chef Jeff and Curly are looking speechless after Harriet styles the old man with spaghetti hair, Abby's eyes are darker than usual.
Cast