Otis' Sick Day
Season 2, Episode 8a
US Airdate
July 26th, 2020
Canada Airdate
24 August 2020
Production code
210a
Character focus
Otis
Fuzzly Spotter location
Otis in the elevator
Episode guide
Previous
Big Terry: Fix-It Fuzzly
Next
Lights, Camera, Fuzzlies
Otis' Sick Day is the first half of the tenth episode in Season 2 of Abby Hatcher
Summary
When Otis gets boo boos on tentacles from an accident, he has to stay in bed and someone else has to cover for him, but finding a replacement elevator operator may be tough to do.
Gallery

Click here to view the gallery If You wan't for Otis' Sick Day.
Trivia
This is the first episode of the series to not feature a brain spark, not even from Abby or anyone else.
Despite the title, Otis does not get sick; he gets injured on his tentacles(Which is understandable, since Otis actually getting sick will cause a fair share of controversy due to the current Covid-19 pandemic).
Moral: Always Be Brave When you have a Boo-Boo (same Moral from Otis out of order)
The plot is similar to the Season 1 episode "Otis Out of Order," since both involve Abby and Bozzly trying to cure Otis after he injures himself.
Irony: When Otis was first given his stretching arm, he could have tried using it to continue his job as the hotel elevator operator before Mo and Bo tried to replace him.
Goofs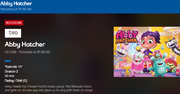 Although the TVO.org schedule correctly lists the title of Otis' Sick Day and Lights, Camera, Fuzzlies!, the digital description for the Canadian August 24th debut simply calls it "Episode 10" with the summary "Abby meets the

Flower Fuzzly

music group The Blossom Band and gets an all-new pop star gear-up to sing with them on stage(To be fair, however, this could be the plot of an unconfirmed upcoming episode that's plot was accidentally released to early).
Cast