Peeper Time Blues
Season 1, Episode 9b
US Airdate
January 31, 2019
Production code
111b
Character focus
Squeaky Peepers
Fuzzly Spotter location
Squeaky Peepers in the dining room
Written by
Kristen McGregor
Directed by
Kyran Kelly
Episode guide
Previous
Teeny Terry's Gift
Next
Abby's Squeaky Peeper Panic
Peeper Time Blues is the second half of the ninth episode in Season 1 of Abby Hatcher.
Summary
When the Squeaky Peepers' bed goes missing, they become increasingly saddened as a result, but Abby and Bozzly are unaware of the mix-up and work to cheer them up so they can sing their happy song for Judge Thorn as the peepers search for their missing egg carton-like home.
Synopsis
Transcript
For a full transcript of "Peeper Time Blues", click here.
Gallery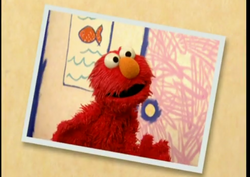 Click here to view the gallery for Peeper Time Blues.
Song
Quotes
Chef Jeff: They're so sad, I have to play the blues
Curly: Blues!
Bozzly: Bozzly play blues too!
Donald Duck: I should play blues but I don't know what this is.
Trivia
This is the first episode where the Squeaky Peepers play a main role, instead of coming out of nowhere.
It's revealed when the Squeaky Peepers become sad enough, they turn blue and constantly sing the blues.
Running Gags:

The Peepers singing blues music when sad.
The Peepers briefly cheering up, only to feel down again moments later, mostly when their bed is mentioned.

This is the first appearance of the Squeaky Peepers' peep-a-phone.
Moral: Don't try to cheer up someone without learning why they're sad in the first place.
This is the first time Bozzly cries, while this is the second time Harriet cries after Hair Flair Everywhere.

This is also the first time multiple characters cry in a single episode.
Goofs
When Abby wakes the Peepers up in the beginning, Little Do has her pacifier in her mouth, but when they get out, she does not have her pacifier and Bozzly gives it to her.
In this episode, the Peeper bed has blankets in it, but in Hair Flair Everywhere and later episodes it did not.
Chef Jeff and Curly should've gotten a little suspicious about buying two egg cartons, as they didn't bring home a second egg carton in the first place. They also should've noticed the decorations on the Peeper bed.
Bozzly presses the button on the boombox to start Abby's song, but a few shots later the button is in the unpressed position.
Cast
SFX