General • Trivia • Appearing • Quotes
The Fuzzlies' Talent Show
The Fuzzlies' Talent Show Episode
The Fuzzlies' Talent Show
Season 1, Episode 4b
US Airdate
January 7, 2019
Canada Airdate
25 February 2019 (TVO, paired)
Production code
102b
Character focus
Teeny Terry
Fuzzly Spotter location
Teeny Terry in the dining room
Written by
Elise Allen
Directed by
Kyran Kelly
Episode guide
Previous
Princess Flug's Flower Float
Next
Too Tired to Tuba
The Fuzzlies' Talent Show (listed in TV guides as The Fuzzlies Talent Show, missing the apostrophe after first "s") is the second half of the fourth episode in Season 1 of Abby Hatcher.
Summary
When the Fuzzlies put on a talent show at the hotel, a tiny tennis ball-shaped fuzzly named Teeny Terry freaks out because he thinks he doesn't have a talent of his own as Abby and the other fuzzlies help Terry as he inflates himself everywhere.
Synopsis
Transcript
For a full transcript of "The Fuzzlies' Talent Show", click here.
Gallery

Click here to view the gallery If You wan't for The Fuzzlies' Talent Show.
Quotes
TBA
Trivia
The Bomber Blimp Jacket inflates a little more than the other episodes, even its sister episode.
Moral: Everyone has a talent.
Goofs
This episode comes after "Princess Flug's Flower Float" but all listings say the opposite.
TV guides display the title as "The Fuzzlies Talent Show" without an apostrophe after the first "s" to designate possessive form.
Picture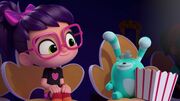 Cast