The Fuzzlies in the Attic
The Fuzzlies in the Attic Episode
General • Trivia • Appearing • Quotes
The Fuzzlies in the Attic
Season 1, Episode 6b
US Airdate
January 9, 2019
Production code
104b
Fuzzly found
Mo and Bo
Fuzzly Spotter location
The fort in the lobby
Written by
Story by: Danielle Koenig
Teleplay by: Jack Monaco
Directed by
Kyran Kelly
Episode guide
Previous
Hair Flair Fuzzly
Next
Afraid of Cats
The Fuzzlies in the Attic is the second half of the sixth episode in Season 1 of Abby Hatcher.
Summary
Abby and Bozzly create a little fort out of pillows and blankets until they go to the attic to grab more items until a pair of twin fuzzlies Mo and Bo unsuspectingly get separated as it is up to Abby and Bozzly to reunite the twin fuzzlies.
Synopsis
Transcript
For a full transcript of "The Fuzzlies in the Attic", click here.
Gallery

Click here to view the gallery If You wan't for The Fuzzlies in the Attic.
Song
Goofs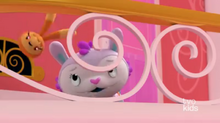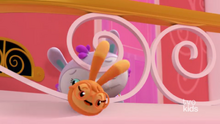 During a peeper panic, Mi, Fa, So, and Little Do weren't glowing in one scene.
The captions spell Fa's name as "Fal". And also the captions spell Mo's name as "Moe".
When Abby is going to follow Bozzly into the fort, Fa's glasses disappear.
Near the end, Abby has taken her shoes off along with her gear, but when she says "What do you think?" her shoes are on. They are off again in the next shot.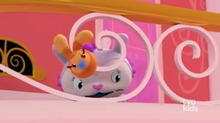 Cast